Tile Backsplash
The addition of a tile backsplash in your kitchen or bathroom can transform the look and feel of your space quickly and efficiently. At Franklin Tile Carpet One Floor & Home, we can help you get a backsplash that is unique and personal to your home. Our collection of tile has something for every style, whether you prefer contemporary mixed with eclectic charm or traditional with cozy chic touches.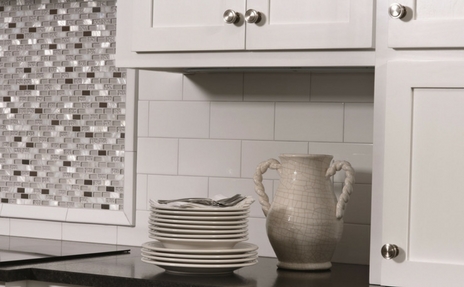 Create a Custom Backsplash
Have you seen a backsplash you love, but don't feel like it fits your personality just right? If that's the case, a custom tile backsplash is the perfect way for you to get precisely what you've been dreaming of. Because tile is so versatile, combining styles is easy. Mosaics and borders can be added to almost any backsplash, and added designs can be added to create visual interest.
Durable Protection
Tiles provide the utmost protection for your kitchen and bathroom walls. Whether you want to shield them from moisture, spills, or splatters, tile provides the barrier needed to create areas where you can stay worry-free in the long run. Tiles are not prone to cracking or chipping, especially after installation, so even if you do have a spill or splatter that needs to be wiped, you don't have to be concerned about the possibility of tile becoming ruined.
Easy Maintenance
Cleaning tile is a straightforward process that does not require excessive attention. While you should always wipe down accidents when they happen, it's not always possible to keep up. Stains or spills often go unnoticed for long periods of time. This is when tile proves itself worthy as a backsplash, as it can still be cleaned at a later time without worrying about it becoming stained.