Our COREtec Selection
COREtec floors perform exceptionally well because of two unique features: COREtec's core structure and the additional core underlayment. The core structure, which is specially-made from recycled wood, bamboo dust, limestone, and PVC, is totally stable and waterproof. It ensures that even under moist or humid conditions, the COREtec planks or tiles will never expand or contract. The cork underlayment, which is attached underneath the core structure, is relatively soft, so it provides sound insulation and even absorbs subfloor imperfections. As a result, COREtec floors can be installed over most subfloors, even those that are not perfectly flat. Also, the cork underlayment naturally resists mold and mildew, so the floor stays clean and healthy for your home.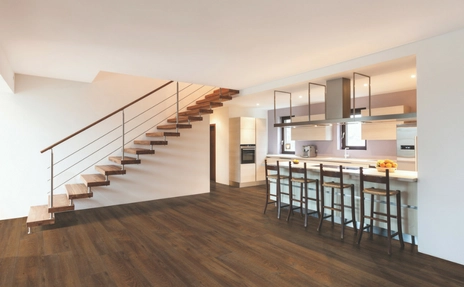 What about looks? COREtec floors, like most luxury vinyl floors options, have natural looks. COREtec Plus tiles offers ceramic and stone tile looks, while the COREtec plank options offer wood looks. These looks are all authentic because of COREtec's luxury vinyl top layer. This layer includes a high definition image of wood or tile, and it also resists chips and dents to stay authentic for a long time.
Our COREtec selection
Franklin Tile Carpet One is excited to offer the complete line of COREtec flooring options in our Franklin, MA showroom. COREtec is undoubtedly one of the best-performing luxury vinyl floors available today. Be sure to stop by to take a look at COREtec Plus, COREtec Plus XL, COREtec Plus HD, and COREtec Plus Design.