Tile Maintenance
Now that you have your new tile floors installed, the next step is keeping them clean and maintaining them over the years. Franklin Tile Carpet One Floor & Home has your local tile experts, and not only do we help you find tile flooring but we can also educate you on how to care for your new tile. Tile is known and loved for its resistance to water and easy cleaning. If you stick to the right maintenance routine, your tile can last for years in your home.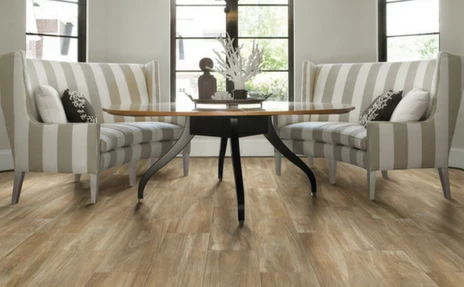 How to Care for Tile Floors
The basic steps of cleaning your tile floors include sweeping or vacuuming your floors to remove dust or dirt before using any cleaning products. You should damp-mop your tile floors at least once a week, depending on how frequently you use that space. This decreases wear and scratches from sand and soil. Glazed and unglazed tiles require different steps depending on which tile you have.
Glazed tile should be regularly cleaned with an all-purpose, non-oil-based household cleaner. Use an everyday multipurpose spray cleaner on wall tiles in your bath or shower.
Unglazed tile need concentrated tile cleaners that have a neutral pH for regular cleaning. These will safely remove grease, oils, and normal spills. Clean glass tile with any cleaner recommended for either glass or tile.
Preventative Tile Care
To go a few extra steps to protect your tile floors, you should invest in floor mats and protective pads under heavy furniture for an extra layer of protection. Place floor mats at entrances and exits—they collect and trap corrosive substances that can be tracked in like dirt, sand, gravel and more. Placing mats in high-traffic areas—in front of vanities, kitchen sinks, and stoves—is an effective way to reduce tile wear.
To learn more about cleaning and caring for your tile floors, give us a call and we will be more than happy to help you!